Here you will find a selection of projects we worked on. These applications have been developed using Adobe AIR, Flash / Flex, the Zend Framework, Yahoo! Widgets, PHP / MySQL, or Adobe Director among others. Click on the thumbnails for more information.
3D virtual tour in a Roman Bathhouse (BSc project)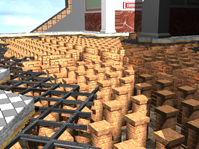 The house 3D model is a reconstruction of a bathhouse excavated in Exeter. A series of videos show the inside of the house as well as the functioning of the heating system. Developed in conjunction with the Museum of Exeter and the department of archaeology of Exeter University.
Role: Developed the 3D model of the house and designed the textures. Implemented and designed the interactive virtual tour.
Tools: Houdini (3D Models, animations and rendering), Adobe Premiere (video editing), Macromedia Director (user interface and video integration) and Photoshop (UI and textures).
Client: Royal Albert Memorial Museum (Exeter, UK)
More details...
Copyright © Pogopixels Ltd, 2008-2018